Porsche Service

near Bristol, TN
When it comes time to have your luxury vehicle serviced, turn to the team of knowledgeable and skilled technicians at Rick Hill Porsche. At our nearby Porsche service center, we have some of the sharpest automotive technicians in town who can answer all your questions regarding auto repairs and Porsche maintenance. We pride ourselves on our expertise and let the quality of our work speak to our commitment to excellence. No matter if you need a quick Porsche oil change nearby or more extensive transmission repairs, we have you covered. Use the information below to figure out when your Porsche coupe or SUV requires its next service, then give us a call to book an appointment at our Porsche dealership near Bristol and keep your beloved car in great driving condition for miles to come.

Maintenance of Porsche Coupes & Sedans
Whether you're looking to buy a new Porsche Panamera or currently drive a Porsche 911 coupe, it's important to be in the know of your vehicles service intervals. Models like the Porsche 911 and the Porsche Panamera come equipped with powerful drivetrains capable of putting out awe-inspiring horsepower, and it's essential to stay up to date on their maintenance. To keep up this high-level performance, it's important for TN Porsche drivers to keep up with their Porsche maintenance schedule. This comprehensive guide provides details on the required Porsche service details for your model.
| | Porsche Panamera | Porsche 911 | Porsche 718 Cayman |
| --- | --- | --- | --- |
| 10,000 Miles | Oil and filter change, tire rotation and safety inspection. | Oil and filter change, tire rotation and safety inspection. | Full synthetic oil and filter service, multipoint inspection, engine, transmission, brake, tire and headlight inspections, and more. |
| 20,000 Miles | Oil and filter change, tire rotation, safety inspection, tire service/replacement and brake pad service/replacement (if necessary) | Oil and filter change, tire rotation, safety inspection and brake pad service/replacement (if necessary) | Full synthetic oil and filter service, multipoint inspection, brake fluid flush and fill, plus inspection of the air intake pre-filter, PDCC and power steering system, coolant and more. |
| 30,000 Miles | Oil and filter change, and includes checking and replacing the brake fluid and transmission fluid, and checking the coolant levels | Engine coolant, brake fluid and transmission fluid changes, in addition to spark plug, air filter and fuel filter replacement. Tire replacement may also be necessary. | Turbo/Turbo S models will have a spark plug replacement, in addition to the 10,000 miles services. |
| 40,000 Miles | Encompasses 10,000- and 20,000-mile services, plus any necessary drive belt, hose, motor mount or suspension bushing replacement. | Encompasses 10,000-mile services, plus an engine air filter and cabin air filter replacement (if necessary). | Non-Turbo/Turbo S models will have spark plug replacement, brake fluid flush and fill, and tire sealant replacement. All Cayman models will also have an inspection of the exhaust system, underbody panels, fuel lines and connections, driveshafts and more. |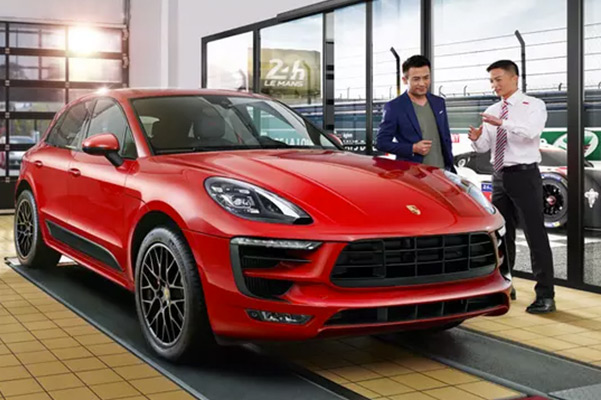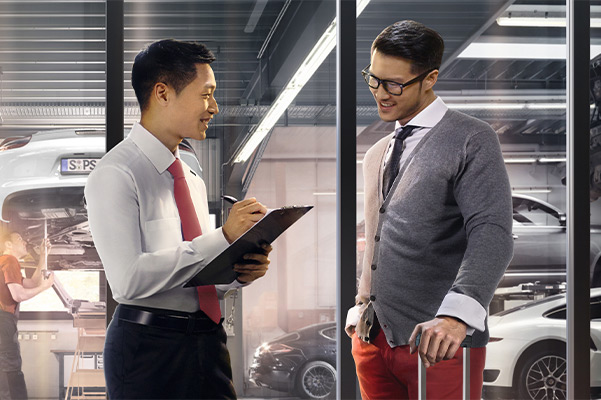 Porsche SUV Service in Tennessee
Just like the stunning Porsche 911, the spacious and family-friendly Porsche SUVs also require meticulous care. The Porsche Cayenne has a pretty standard maintenance schedule, while the one-of-a-kind Porsche Macan SUV has more intricate service intervals. Tennessee drivers are recommended to have an oil and filter replacement every 10,000 miles, or at least once per year.1 The rest of your Porsche Macan maintenance, which includes an electrical system check, interior, exterior and undercarriage inspection, and spark plug replacement, is recommended to be carried out every 40,000 miles or four years.1
| | Porsche Cayenne | Porsche Macan |
| --- | --- | --- |
| 10,000 Miles | Oil and filter replacement, tire rotation and safety inspection. | Oil and filter replacement |
| 20,000 Miles | Oil and filter replacement, tire rotation, safety inspection, as well as tire service/replacement and brake pad service/replacement (if necessary). | Oil and filter replacement |
| 30,000 Miles | Safety inspection, brake fluid change, engine coolant change, transmission fluid change, possible brake pad and/or tire replacement. | Oil and filter replacement |
| 40,000 Miles | Tune-ups plus visual inspection of brakes, hoses and fluids, as well as possible servicing or replacement of drive belts and suspension system. | Oil and filter replacement PLUS Electrical system check, interior, exterior and undercarriage inspection, and spark plug replacement. |